No matter how devoted you are with the work that you do, burnout happens more often than we'd like to admit. Even more so for nurses with long hours of work, missing meals, and having to hold one's bladder for hours – all while struggling to keep up with the demands of the hospital ward. And to deal with all these on a daily basis? It's no wonder nurses who are burned out consider quitting.
If you're starting to feel burned out, remember to rest and unhook yourself from the burdens of the outside world. There's nothing wrong with taking care of yourself as it's the only way you'll be able to perform your duties with pride and joy. These burnout quotes we've collected below are also reminders that it's okay to stop and just worry about yourself for a change.

The most fruitful breaks are often those we are or were forced to take by life. – Mokokoma Mokhonoana
Burnout is nature's way of telling you, you've been going through the motions your soul has departed; you're a zombie, a member of the walking dead, a sleepwalker. False optimism is like administrating stimulants to an exhausted nervous system. – Sam Keen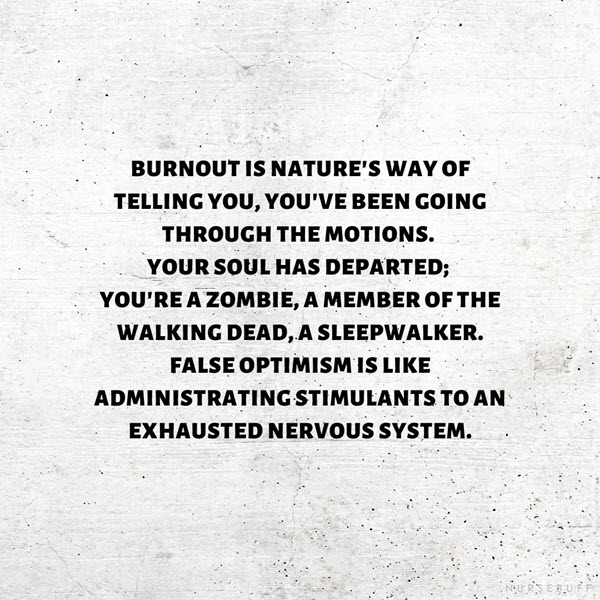 Every time you find some humor in a difficult situation, you win. – Peanuts
If you get tired, learn to rest – not to quit. – Banksy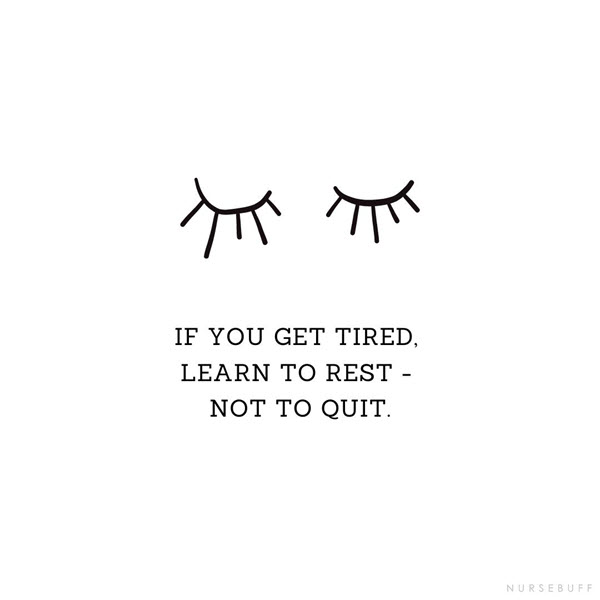 You are not required to set yourself on fire to keep other people warm.
Just because you take breaks doesn't mean you're broken. – Curtis Tyrone Jones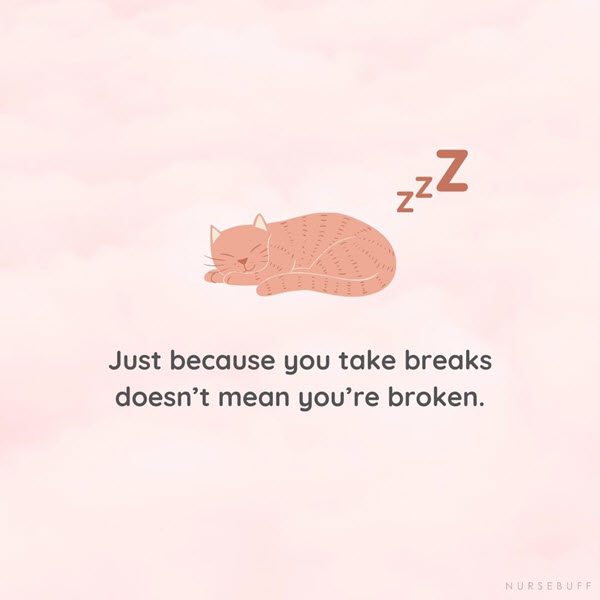 Self-care is essential to combating burnout. – Asa Don Brown
Balance is the epiphany that you don't have to be everything to everyone, all of the time. – Vanessa Autrey
No beating yourself up. That's not allowed. Be patient with yourself. – Holly Mosier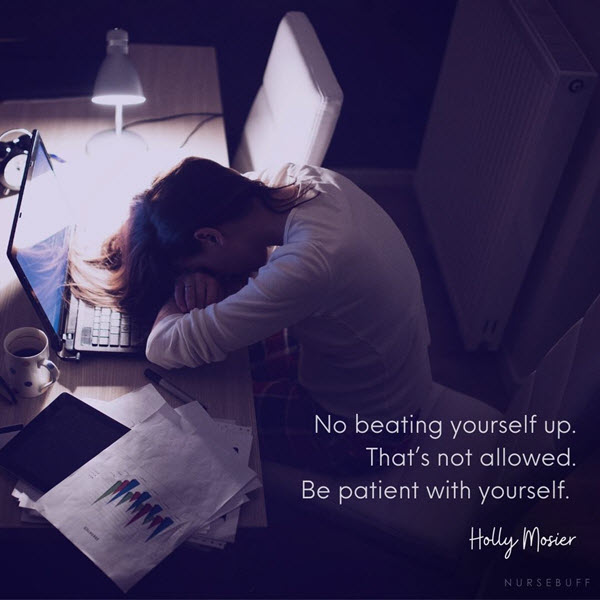 Being overwhelmed means that your life or work is overpowering you. Regain control by clarifying your intentions, setting realistic expectations, and focusing on your next step. – Daphne Michaels
Nothing is worth your health. Nothing is worth poisoning yourself into stress, anxiety, and fear. – Steve Maraboli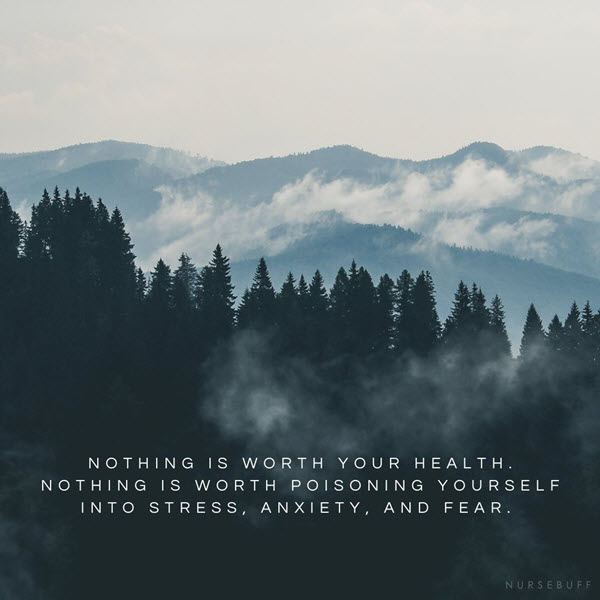 The wise rest at least as hard as they work. – Mokokoma Mokhonoana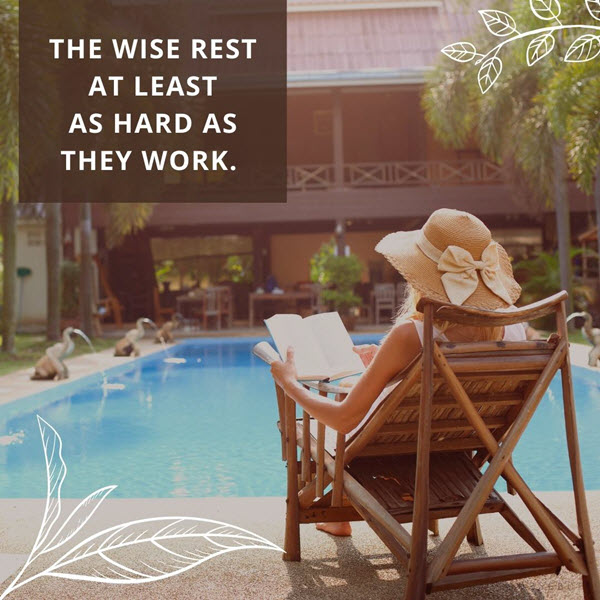 A woman who lives with the stress of an overwhelmed schedule will often ache with the sadness of an underwhelmed soul. – Lysa Terkeurst
It's okay to admit that something can be "best" just because it makes you happy, and not because you had to tear yourself apart to get there. – Morgan Rogers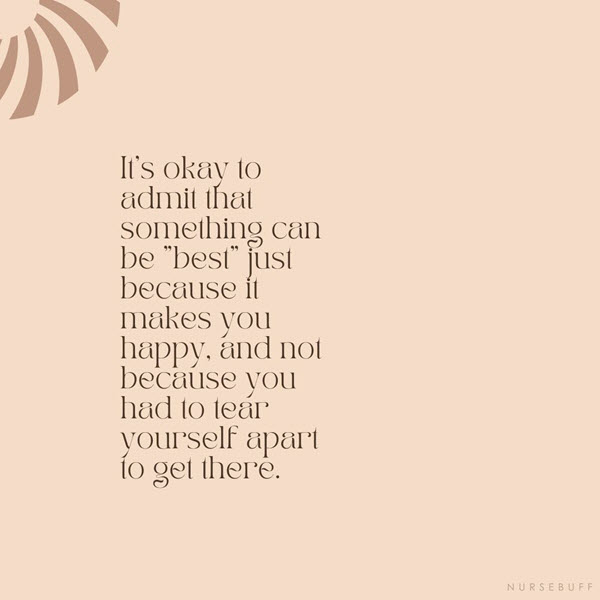 We're totally guilty of doing too much at once, all while trying to manage the noise in our heads that says we're not doing enough. – Vanessa Autre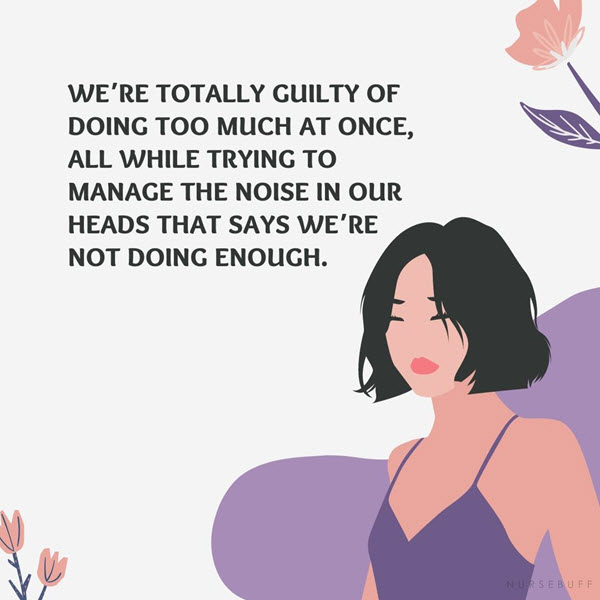 If you think you can outsmart burnout, burnout will prove you wrong. – Sally Clarke
However good or bad a situation is, it will change. – Regina Brett
Be miserable. Or motivate yourself. Whatever has to be done, it's always your choice. -Wayne Dyer
Take rest; a field that has rested gives a bountiful crop. – Ovid
It's not the load that breaks you down, it's the way you carry it. – Lou Holtz
Self-care is how you take your power back. – Lalah Delia
You are braver than you believe, and stronger than you seem, and smarter than you think. – Christopher Robin
Adopting the right attitude can convert a negative stress into a positive one. – Hans Selye
Keep your thoughts positive because your thoughts become your words.
Keep your words positive because your words become your behavior.
Keep you behavior positive because your behavior becomes your habits.
Keep you habits positive because your habits become your values.
Keep you values positive because your values become your destiny.
– Mahatma Gandhi
Stand up to your obstacles and do something about them. You will find they haven't half the strength you they have. – Norman Vincent Peale
For fast-acting relief, try slowing down. – Lily Tomlin
Happiness is a choice. You can choose to be happy. There's going to be stress in life, but it's your choice whether you let it affect you or not. – Valerie Bertinelli
If you are in a bad mood go for a walk. If you are still in a bad mood go for another walk. -Hippocrates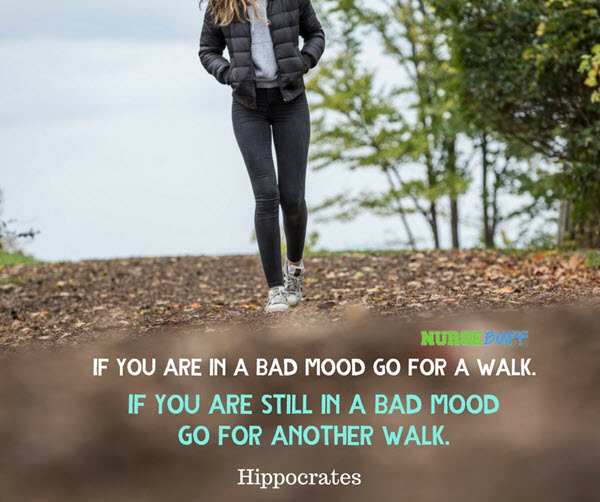 Be a rainbow in someone else's cloud. – Maya Angelou
Sometimes the most important thing in a whole day is the rest we take between two deep breaths. – Etty Hillesum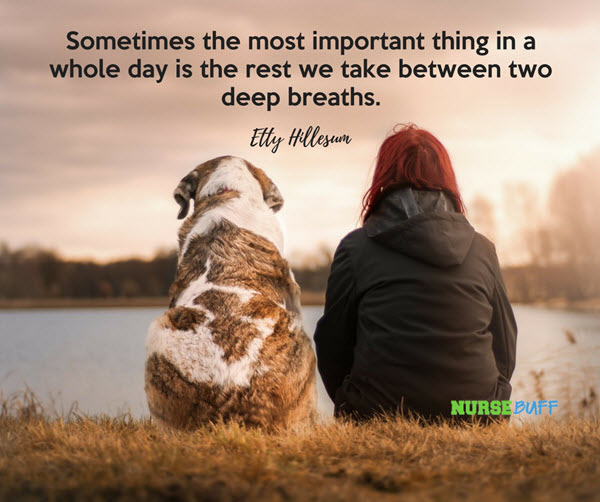 I have a theory that burnout is about resentment. And you beat it by knowing what it is you're giving up that makes you resentful. – Marissa Mayer
To be self-compassionate is not to be self-indulgent or self-centred. A major component of self-compassion is to be kind to yourself. Treat yourself with love, care, dignity and make your wellbeing a priority. With self-compassion, we still hold ourselves accountable professionally and personally, but there are no toxic emotions inflicted upon and towards ourselves. – Christopher Dines
In dealing with those who are undergoing great suffering, if you feel "burnout" setting in, if you feel demoralized and exhausted, it is best, for the sake of everyone, to withdraw and restore yourself. The point is to have a long-term perspective. – Dalai Lama
Tension is who you think you should be. Relaxation is who you are. – Chinese proverb
When we commit to action, to actually doing something rather than feeling trapped by events, the stress in our life becomes manageable. – Greg Anderson
Say NO to the demands of the world. Say YES to the longings of your own heart. – Jonathan Lockwood Huie
When we commit to action, to actually doing something rather than feeling trapped by events, the stress in our life becomes manageable. – Greg Anderson
Understanding how to find the magic moments in your daily life is critical. If you subscribe to the philosophy that says, "My vacation will free me from burnout," then you`re waiting for a few days out of the year to make up for many days of stress. Instead, you have to be able to take mini-vacations on a daily basis. – Tony Robbins
When you find yourself stressed, ask yourself one question: Will this matter in 5 years from now? If yes, then do something about the situation. If no, then let it go. – Catherine Pulsifer
The No. 1 cause of burnout is doing the same thing over and over again and not seeing results. – Steve Kaczmarski
You will burn and you will burn out; you will be healed and come back again. – Fyodor Dostoevsky
Take care of your body. It's the only place you have to live. – Jim Rohn
Slow down and everything you are chasing will come around and catch you. – John De Paola
I just love what I do. I'm not worried about any burnout. – Canelo Alvarez
Rule number one is, don't sweat the small stuff. Rule number two is, it's all small stuff. -Robert Eliot
It's not the events of our lives that shape us, but our beliefs as to what those events mean. – Tony Robbins
Balance is not better time management, but better boundary management. Balance means making choices and enjoying those choices. – Betsy Jacobson
We have overstretched our personal boundaries and forgotten that true happiness comes from living an authentic life fueled with a sense of purpose and balance. – Dr. Kathleen Hall
By refreshing our sense of belonging in the world, we widen the web of relationships that nourishes us and protects us from burnout. – Joanna Macy & Chris Johnstone
There's a lot of stress out there, and to handle it, you just need to believe in yourself; always go back to the person that you know you are, and don't let anybody tell you any different, because everyone's special and everyone's awesome. – McKayla Maroney