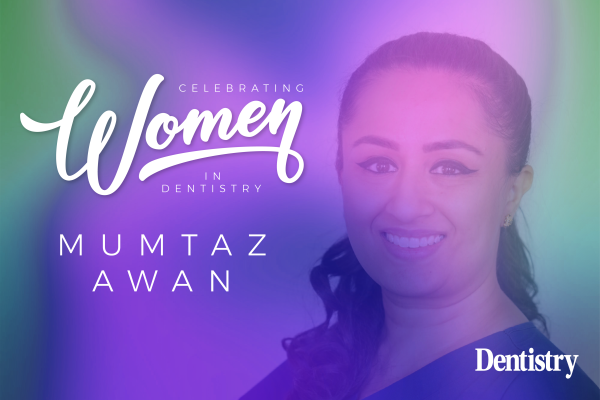 As part of our Celebrating Women in Dentistry series, Dr Mumtaz Awan speaks openly about embarking on motherhood, balancing it with a dental career and why delegating is key to finding a balance.
Tell us a little about your journey into dentistry
My journey to become a dentist hasn't been an easy or a straightforward one. I had always wanted to be a doctor; a paediatrician to be exact.
However, after my GCSEs we were expected to gain some work experience in a field that interested us. I chose to work a week in the radiology department of Selly Oak hospital in Birmingham and a week in a private dental practice in Rubery.
This was the game changer as I realised that dentistry fit my artistic yet scientific personality better than medicine. From here stemmed my passion for teeth.
After my A-Levels I didn't gain entry into dentistry, however. I studied medical science at Birmingham University after which I went on to complete a master's in biomaterials (you might be able to find my thesis on the web if you look hard enough!).
'Best days of my life'
After my master's I decided to apply for dentistry again but this time as a post graduate. It was 2007 and there was a new dentistry programme starting at Plymouth University as part of Peninsula Medical School; to be later known as Peninsula College of Medicine and Dentistry.
I had never been to Devon or Cornwall. However the course description really appealed to me.
My interview was in Exeter and it was my first visit down to the south west, which if you haven't been already is one of the most beautiful parts of the UK.
The interview was taken by some of the biggest names in dentistry at that time and was a nervewracking experience, as all interviews can be. Luckily, I managed to 'wow' the panel with my personality and I was finally offered a place at dental school.
I spent five years down in the south west and graduated as a dentist in 2012 – one of the best days of my life.
Did you consciously wait until you had reached a certain place in your career to then decide to have a child?
In a word, no.
After getting married, my husband and I both concentrated on our careers. He was busy with a MClindent in prosthodontics at the Eastman Dental Hospital, while I was busy in general practice learning as much as I could, ready for whenever we opened our own practice, which was the ultimate goal.
Children were never a priority at that time. Although I knew I wanted them, to me my education and career had always been my first goal. Without that I felt that I would not be prepared enough for what I wanted for my future.
Even now I think back, and maybe I still wasn't at a point in my life or career where I would have probably wanted to be before having children.
Ideally, I would like to have been where I am now in my career. Trying to build a business and give your best to your family is extremely tough and not for the faint hearted.
How long after having your child did you return to work?
I have been blessed with a daughter who is four years old and a son who is two years old. When I was expecting my daughter, I literally worked up until a few days before I gave birth. I went back to work as an associate about nine months after she was born.
With my son, however, he was what people are calling a 'Covid baby' and I got to spend a lot more time on maternity leave with him, going back to work in my own practice after about 13 months.
How do you navigate employment or are you self-employed?
I am self-employed and a practice owner. I have control over my work diary and can therefore mould things to fit my life.
However, this cannot always be the case and sometimes my work and life run completely off balance. It is hard to have time for yourself in this situation, primarily because at the moment my children are so young. So even if I have time off from work, I will be busy with them.
Do you experience any work/family conflict and, if so, what are your solutions?
It can be extremely difficult to balance your time with family and also give enough time to your business. I feel that being a practice owner doubles the pressure on me to make sure my home life and work life are running smoothly.
My personality is such that I am a bit of a 'control freak', my favourite phrase being: 'Oh it's fine, leave it. I will do it…' I guess I don't like to accept help. 
This pressure does build up and in turn it can take a toll on my relationships at home with my family, where all it will take is for one of them to say the smallest thing to me or make a comment about something and I will start my mini meltdown.
I feel that this is probably the main issue with the stress of having a young family and a business. I have, however, been trying to find solutions. 
I've found that planning my day/week is key. I'm still having issues with planning and find myself 'firefighting' my way through days sometimes as most days throw a curve ball at me, which means that my initial plan just gets destroyed.
I feel that I have to admit that I need help sometimes and can ask for it from my family and staff. It is not necessary for me to do everything myself. But I feel that this is a mindset that a lot of women have; that they are the only ones who are capable of completing the job successfully.
Delegate
Realistically, however, the same result can be achieved with someone else carrying it out. We don't need to take on that pressure, but I guess it is easier said than done. 
I found that business coaching has really helped my mindset, with regards to delegating jobs that my staff are more than capable of carrying out successfully. I've learnt that it does not have to be carried out perfectly, because as I said, the same result can be achieved either way.
I feel family support is very important in eliminating any conflict. I have a lot of support from my husband with regards to working and also looking after our children.
He has supported our family financially. We would definitely not be where we are without his hard work and dedication to the cause.
As well as this, when he is working, we are blessed to be able to call on my mum who is always there and never says no to helping (mainly because she thinks I will either starve my kids or just feed them chocolate every night).
Who in your family takes responsibility for domestic tasks eg caregiving and housework?
I feel that it really depends on how you define the term 'domestic task'. To me this does mean cooking, cleaning or looking after the children. However, when I asked my husband, he felt that the term could also mean in part the maintenance of the home too.
Going with my definition, I would say that I am the main person responsible for the domestic tasks. I do the laundry, some cleaning, school drop offs and pickups, cooking (when I have time to, otherwise Deliveroo helps with this), altering clothes, sorting out kids' social lives, changing light bulbs etc.
When I am working, then my mum helps and usually gives my kids their dinner by the time I get home from work in the evening.
If women – do you feel it is disproportionate and that women may sometimes accept this disproportion because it's more 'traditional'?
I do think that it is disproportionate. But I feel that in my situation it may be partly my fault as I do not ask for help most of the time and my family are just used to me doing most things.
I do feel that there is that 'traditional' element, where the women are just expected to carry out the household chores as it is known to be the norm.
This is not to say that men are not able to carry out the same chores. In my case, this has probably stemmed from me watching the other women in my family and how they were able to just take care of everything and be very successful at it.
I feel that life now is very fast though and women work just as hard as men, if not harder, to be successful in their professional lives.
I feel that culture also plays a part in this though. I'm from an Asian background where women used to be expected to take on the cooking and cleaning without any debate.
This is slowly changing now as there are more and more educated ladies out there who want more from their lives than just knowing how to cook and clean. But I feel that it will still take time for there to be equality in this aspect of family life. Whether it ever changes completely remains to be seen.
Have you ever experienced stress/overwhelm/guilt/burnout since becoming a mother and returning to work?
I always say that being a mother is the hardest job I will ever have. To have the constant thought of your childs' wellbeing in your mind and being responsible for another little human being. It is just so rewarding but stressful at the same time.
Before having children of my own, I would be walking around the supermarket and there would be that one child who would be screaming at the top of their lungs about something ridiculous.
The mother would be going red in the face from embarrassment, and I would most likely have been commenting on how that mother cannot control her child. Since having children, I have never commented about that woman again.
In fact, I have been that woman and I know that the child is probably playing up because they haven't seen their mother all day and just want her attention. This has caused me unbearable guilt at times, where I have spent hours just lying next to my children and watching them sleep.
I constantly am praying that all my hard work will pay off and that they will benefit from what we are building now. I know that the stress of it all will be worth it in the end.
Did you have a working mother? Did this have an impact on how you have balanced your work and motherhood?
My mother was a business woman. She had her own launderette/dry cleaning business. I watched her get up every day, get me ready for school, drop me off and then go to work.
She would work all day, come and pick me up from school, take me home and start on her domestic tasks.
She did this every day for more than 30 years. When I was young, she would take me to work with her and no matter what she was going through in her personal life, she would speak to her customers as if she was the happiest woman on the planet. I have this trait in me and most women I feel smile through their issues.
But watching this as I was growing has definitely impacted how I am and how I view working and motherhood.
I am still learning the best ways to balance my life so that I can give my best to both my children and my business. But my mindset is such that there is nothing that I cannot do. Whether I am successful at it is another story, but I have never given up and will continue as long as I am physically and mentally able.
Any advice for other working women who are considering having a family/are struggling with finding the right balance for them?
For those women thinking of having a family, I would advise that they think carefully about where they are in their career and whether they feel stable enough to be able to handle working and looking after a child.
This is because once you become a mother, there is no going back. You will have to learn to juggle all aspects of your life very very quickly. So it is better to be as prepared as you can.
For those who are feeling like they are struggling, I would strongly suggest you to stop and re-evaluate how much you are working and whether it is necessary.
Consider delegating tasks if you can. Delegating automatically takes some of the pressure away and makes it easier to focus. It may be a case of reducing your work load. This is something only you would be able to decide. However you will know when it is right because you will automatically feel better and balanced.
As a woman, I am constantly trying to instill the best qualities and values in my daughter so that she is able to be a strong, independant woman who respects those around her but is still able to stand her ground.
I want her to be the best in all she does including motherhood (should she choose to). I never want to break her beautiful spirit and if you were to ask her, she will tell you that she is a 'Porsche with no breaks'. Nothing can stop her.
---
Follow Dentistry.co.uk on Instagram to keep up with all the latest dental news and trends.