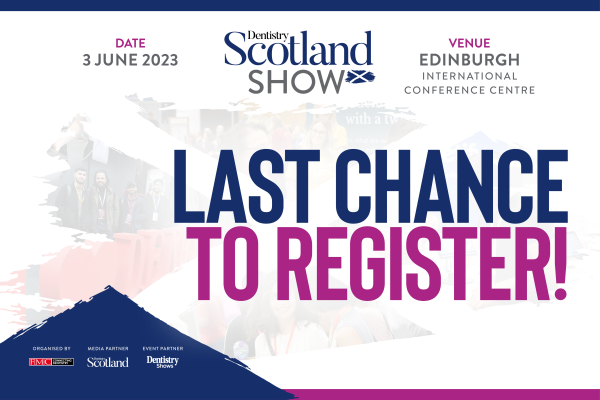 With only one week to go until the Dentistry Scotland Show, this is the last chance to sign up. Find out why you should come along to this unmissable free event.
The 2023 Dentistry Scotland Show is touching down at the Edinburgh International Conference Centre on 3 June 2023.
The upcoming show has a world-class line-up of speakers, hours of CPD on offer, and the latest products, leading brands and biggest innovations that power Scottish dentistry.
While it is completely free to attend, registration is essential! And with only one week to go, spaces are limited. Register today for the 2023 Dentistry Scotland Show.
'We're always so excited to bring the Dentistry Scotland Show to Edinburgh!' said Laurie Glover, FMC marketing director. 'It's an absolute highlight of our year thanks to the incredible welcome the Scottish dental community offer us.
'We're back this year with a slate of home-grown talent in our lecture theatres and we're covering the topics that will shape the future of dentistry in Scotland.
'There's more CPD than ever before and we've lined up several speakers to deliver the GDC's recommended topics to help you get those hours completed'.
Reasons to attend
Learn
Across three different lecture theatres, 16 leading clinicians and industry experts will be discussing carefully-selected topics in every area of dentistry.
Enjoy our range of cutting edge lectures designed for all members of the practice.
CPD
Every single lecture is CPD-certified, meaning you can get hours in the bag for your day at the show. All you have to do is scan on the day and the certificates will be available in your Dentistry Club account.
This year's Dentistry Scotland Show will have a theatre dedicated to GDC recommended CPD topics, making those mandatory CPD hours fly by. These topics are medical emergencies, complaints handling, and oral cancer: early detection.
In addition, all attendees of the show will receive a free one month trial subscription to Dentistry Club silver, providing access to over 550 hours of CPD.
Celebrate
Celebrate your team's hard work with a day at the Dentistry Scotland Show.
With something there for every member of the dental team, you can bring the whole practice along.
Don't forget to pop over to the bubbles and beer stand where you can get yourself a complimentary drink.
Networking
We know nothing beats getting back face to face with peers and friends.
With a hall packed full of other dentists, lecturers and company experts, everyone is going to be on the same wavelength.
Discover
The Dentistry Scotland Show has a fantastic line-up of industry leading delegates and brands in the exhibition hall.
Get face to face with the full spectrum of dental companies featuring the latest technology and biggest innovations that power dentistry.
If you're looking to re-stock, get a better deal, upgrade or just discover something new, you'll find it here.
---
It's free to attend, but registration is essential! Make sure you save your spot today by visiting dentistry.co.uk/scotland-show.
Follow Dentistry.co.uk on Instagram to keep up with all the latest dental news and trends.