Innova 7111 Smart Diagnostic System OBD Scanner Tablet review – diagnose check engine lights yourself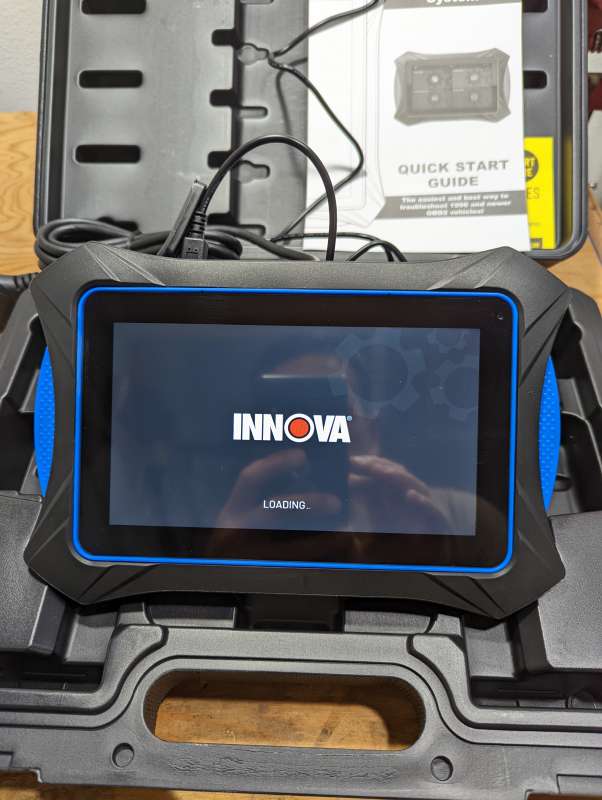 We use affiliate links. If you buy something through the links on this page, we may earn a commission at no cost to you. Learn more.

REVIEW – Back in the day, I used to work on my own cars but I gave it up as they became more computer than mechanical. My check engine light came on the other day so I decided to see if I could diagnose it myself but you need a scanner to do that these days.  Enter the Innova 7111 Smart Diagnostic System OBD-II Tablet to help me avoid a trip to the mechanic. 
What is it?
When your check engine light comes on it is because your Engine Control Unit (ECU) detected a Diagnostic Trouble Code (DTC) from the multitude of sensors in today's vehicles. The Innova 7111 Smart Diagnostic System OBD-II Tablet is an on-board diagnostics (OBD) scanner that plugs into your car to read those DTCs from the ECU. This lets you troubleshoot and ideally repair any issues that the computer detects.
What's in the box?
Innova 7111 OBD smart diagnostic scan tool

Power adapter

Quick start manual

The full manual was not included but can be downloaded from the Innova site

here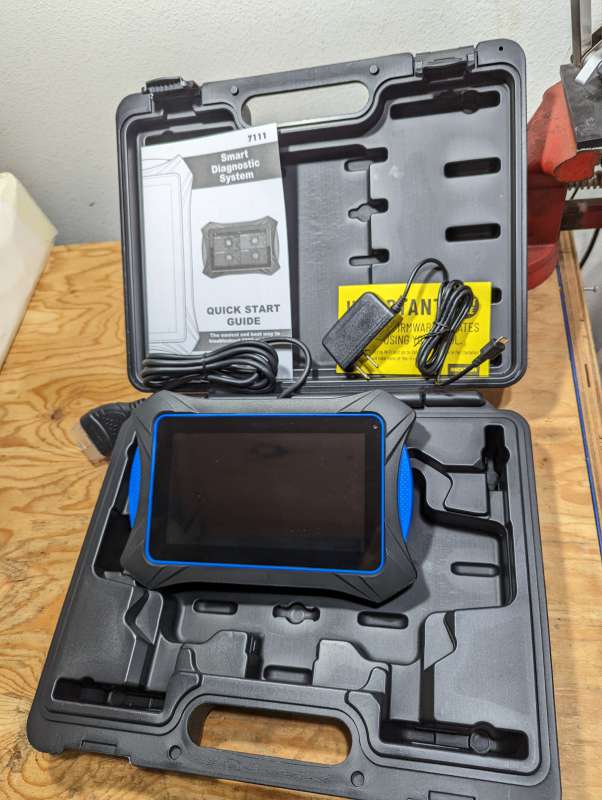 Hardare specifications
Weight: 4.05 lbs

Dimensions: 8.5" x 6" x 1"

Bi-Directional System Testing + Diagnostic Routines

ADAS Inspections – Pre and Post Scans

Vehicle Coding / Adaptations / Relearns / Calibrations / Initialization

Technical Service Bulletins and Safety Recalls

View and Email Vehicle Reports

Complete All Module Vehicle Scan

Trip Cycle

Service Resets

Premium access to RepairSolutions2 automotive repair database

WiFi capable
Design and features
What makes the 7111 Innova's flagship scanner is the built-in integration of the RepairSolutions2 app. For all their other scanners you have to download the app to your phone and connect the scanner to the app.  Along with basic functions such as vehicle global scanning, diagnostics, network scan, scanning selected modules, live data reading, and erasing digital trouble codes the Innova 7111 can do more advanced things such as in-use performance tracking, service resets, and viewing drive cycle procedures. While not as capable as a dealer level scanner it has more features than an entry level scanner.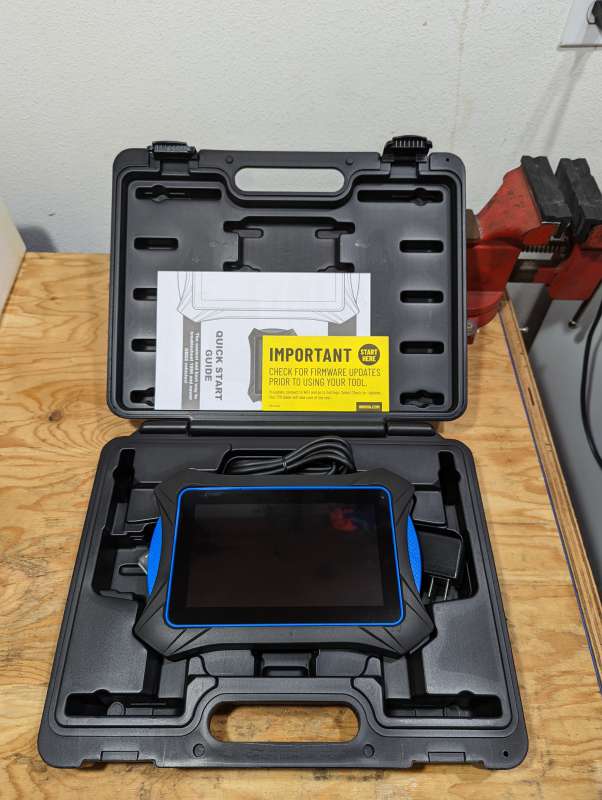 The Innova 7111 Smart Diagnostic System arrived well packaged and in a convenient storage case. I did find the case itself a little tricky at first to get the tablet and the power adapter back in so that the lid would close and I wish there was some more room so it didn't have to be placed in such a specific way. Also, a sleeve in the lid would have been nice to put the manual which I printed out (78 pages) since I wanted a hard copy to read.
The tablet has a nice solid feel to it and is well protected on the corners and edges. The power button is easy to find by feel and the cable seems pretty sturdy and connected to the tablet really well. I found myself picking it up by the cable a few times but it doesn't seem like the cable will come out easily. All the ports are well protected with sturdy rubber covers. Underneath you'll find the USB micro-b charging port, a TF card slot (which per Innova is currently disabled), headphone port, micro HDMI port to connect to an external display, and on the back, there is a very convenient folding stand along with what looks like a camera lens that is also disabled.
I turned the Innova 7111 Smart Diagnostic System OBD-II Tablet on and after connecting to my WiFi the firmware was automatically updated. After that instead of only four tabs which are shown in product photos of the 7111 you now have six on the main screen. Connecting to a vehicle is as easy as finding the vehicle's OBD-II port which is always within two feet of the driver so it is typically right under the dash area below the steering wheel. There's only one way to plug it in and then turn the vehicle ignition on but do not start the engine. You then turn the Innova 7111 on and once it takes a few moments to boot it will immediately scan for vehicle information. Every vehicle I plugged into it was able to pull make, model, and VIN, but on a few, it wasn't able to read the mileage. If it is unable to read the vehicle information at all you can enter the VIN manually as well as enter mileage manually if needed.
After the Innova 7111 Smart Diagnostic System OBD-II Tablet detects your vehicle the main screen displays the different tabs you can choose from. I'm not sure and the manual doesn't specify what the difference is between the Global OBD and the Network Scan. They seem to do the same thing. The Select Module tab lets you select a specific module such as the brake systems instead of performing a complete scan to save time. Global Live Data allows you to view live data when the vehicle is running. Service Reset allows you to reset certain functions such as oil light, battery, or brakes. Finally, Custom Scan lets you set up a scan to your preferences. 
DTCs are displayed in four categories in the following order: Primary, Stored, Pending, and Permanent. On my 2011 BMW X5d I did have to input the mileage manually but everything else it detected automatically. A check engine light came on the other day but I just had an oil change and my mechanic said everything looked good so I wanted to see what was going on.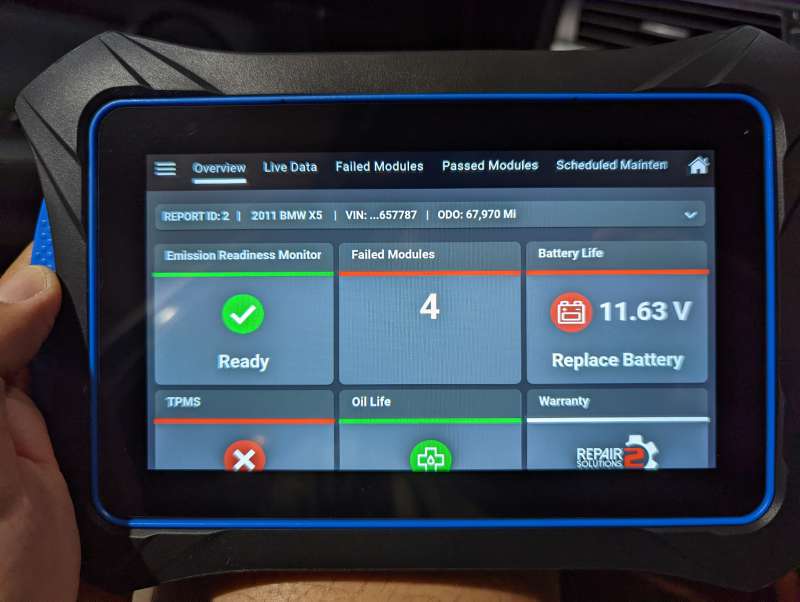 After running the Global OBD scan I was a little surprised to see four failed modules and seven total DTCs. I found that only for the Primary DTC the scanner will go into more detail on what the DTC means. For all other DTCs I had to look them up on the internet with another device. This was a little annoying and for the cost and the integration of the RepairSolutions2 app, I would have expected the ability to view detailed information along with potential fixes listed and even the ability to search the web for videos or more information which you can do on the TOPDON ArtiDiag600 scanner previously reviewed on the Gadgeteer.
If you select the maintenance tab the Innova 7111 will tell you what upcoming maintenance is needed based on your mileage with estimated parts costs. It will then show a link to your parts retailer of choice to order them. I entered Amazon as the retailer and it did indeed go to the required part.
I also looked at a friend's 2010 Ford Escape and was able to email him a pdf report of the scan so that was convenient. A coworker had just changed his oil himself and I was able to reset his 2008 Toyota Tacoma's oil light and reset all his DTCs from a bad battery he had replaced but neither of those had Primary DTCs which cause the check engine light to come on.  I did look at another friend's 2010 Ford Explorer which did have a primary DTC for a coolant thermostat. The ECU also stored a freeze frame of vehicle data at the time of the DTC incident so you can see that by clicking freeze frame.
The most likely fix was displayed and the option to buy the parts directly. He called a shop and they quoted him $100 in parts and $500 in labor. He decided to watch some YouTube videos and will attempt the repair himself for less than $50 in parts.
When I plugged the Innova 7111 into my 2018 Honda Pilot I found four failed modules with numerous DTCs but since none were listed as a Primary DTC I could not see potential fixes or detailed information on those DTCs. Since my Pilot didn't have a check engine light these were DTCs that had occurred but were just stored and did not cause the MIL lamp to turn on. For example, it showed one code, U1101 F-Can Malfunction (PCM-ACM Control Unit), and that was it. No further detailed explanation or potential fixes. I had to look it up on my phone or go to my computer and I feel like that is an unnecessary step when I am using a $599 tablet with WiFi capability.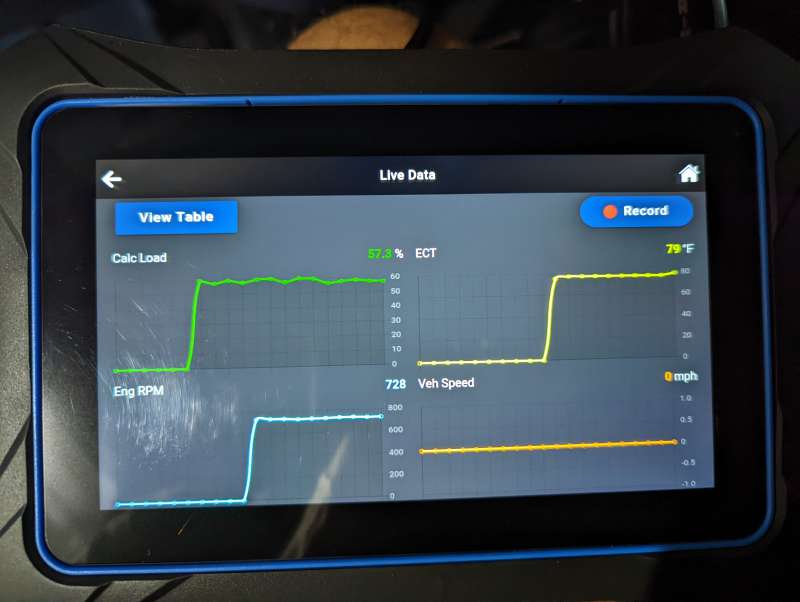 I did use the live scan feature a few times which showed temperature, RPM, battery voltage, and speed along with the ability to record. You are supposed to be able to select or deselect what data you want to view but for some reason, I was unable to change the default selections as the check boxes were grayed out. 
The predicted repairs tab displayed parts that are likely to fail in the next 12 months or 15k miles along with estimated cost to repair. I hope it's wrong.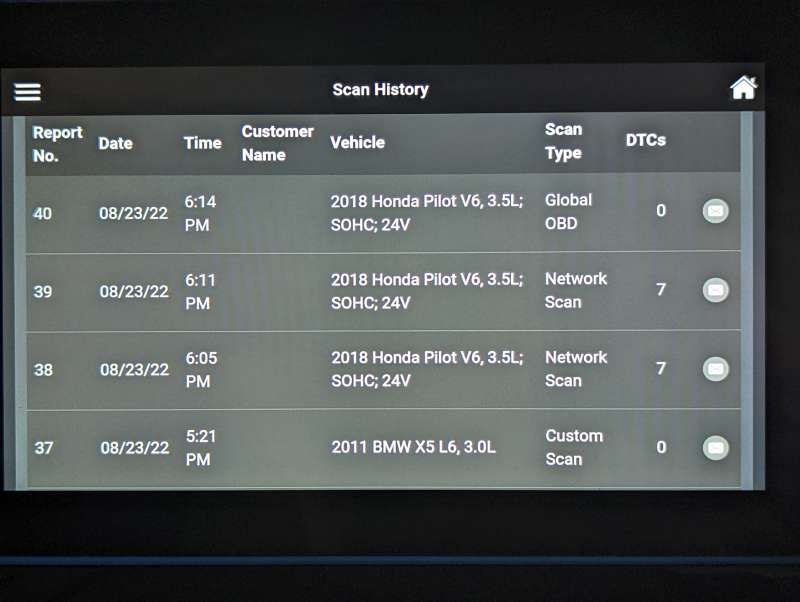 In all, I used the Innova 7111 Smart Diagnostic System OBD-II Tablet to scan 10 cars for a total of 40 individual scans and I did like that the results were stored in the history section so I could go back and look them up later. If all 10 cars had gone to a mechanic, diagnostic fees alone would have been well over the $599 cost of the Innova 7111 however it is not without its shortcomings. I expected more from their flagship product and although Innova has integrated the RepairSolutions2 app into the 7111 its capability is still limited and you have to be connected to WiFi to run those reports. The Innova 7111 can only provide verified or potential fixes on Primary DTCs only. For Stored, Pending, and Permanent DTCs the Innova 7111 provides no further analysis besides reporting the code and a basic name. 
What I like
Works on almost every car

Easy to use touchscreen design

Free updates
What I'd change
Storage case could be a better fit

Better RepairSolutions2 integration with more detailed explanations of DTCs and potential fixes with built in web searches
Final Thoughts:
Although this scan tool is geared more toward the advanced weekend warrior I found some basic features lacking. For the average DIYer just trying to find out what your check engine light means you might want to look at Innova's cheaper diagnostic tools such as the Innova CarScan Pro 5610 previously reviewed on the Gadgeteer which is about half the price. If you already have an OBD scan tool and are looking to upgrade, the Innova 7111 does have more advanced features that entry-level scanners may not have. I think Innova is on the right track trying to integrate the RepairSolutions2 app into a scanner; however, some more tweaking is needed to retain all the features available in its smartphone counterpart. The Innova 7111 seems to be a product that has potential but was rushed to market too soon and they are relying on future firmware updates to fix. At least that is a possibility so I'm hoping they can resolve a lot of the shortcomings and if that happens the Innova 7111 will truly be a 'smart' diagnostic system.
Price: $599.99 with $75 coupon available at Amazon, $599 at Autozone, or $705.87 direct from Innova
Where to buy: Amazon, Autozone, or Innova website
Source: The sample for this review was provided by Innova.