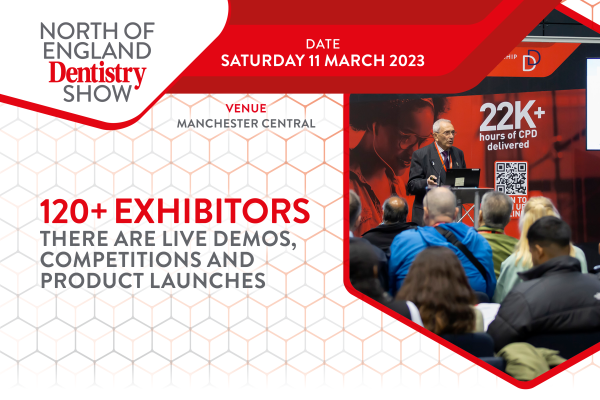 The North of England Dentistry Show is less than a week away! Find out what's in store at the exhibitions hall, including prizes and the biggest dental brands.
This Saturday the North of England Dentistry Show is touching down at Manchester Central Convention Complex.
It's expected to be FMC's biggest show to date, with more exhibitors, speakers and attendees than ever before.
After the 2022 show was completely sold out, and with less than 100 tickets left, it's essential that you register your place. And best of all, it's completely free!
Click here to register for the North of England Dentistry Show.
'Last year's North of England Dentistry Show proved to be a massive hit,' Leanna Ellis, FMC events director said. 'But we're very confident that this year's show will be even bigger!
'With more lecture theatres, speakers and brands than ever before, as well as live demos and 60+ hours of CPD on offer, it's not one to be missed.
'We're looking forward to seeing you there!'
What's on at the North of England Dentistry Show?
We know that the team is the beating heart of any practice. That's why the North of England Dentistry Show is a dental show for the entire dental team.
There will be lectures, live demos, CPD and exhibitors that cater to everyone. You can bring the whole practice along!
Across 12 different theatres, more than 85 speakers will be discussing carefully-selected topics covering every area of dentistry.
There is also hours of CPD on offer with every lecture CPD-certified. This means you can complete your year's CPD with the North of England Dentistry Show! Simply scan the QR code of each lecture and the certificates will be available in your Dentistry Club account.
In addition, every delegate will receive a complimentary one-month membership to Dentistry Club Silver. This will provide access to the Dentistry CPD platform that offers more than 550 hours of content, including all GDC recommended topics.
Have a look at the confirmed list of theatres here:
Business Hub – powered by Mydentist
Clinical Dentistry Theatre
Laboratory Theatre
Dental Nursing Theatre
CPD Theatre – powered by Dentistry Club
Digital and Implant Theatre – powered by IDDA
Facial Aesthetics – powered by Relife
Avant Garde Theatre
Smile Dental Academy Theatre
Oscare Restorative Theatre – powered by Trycare
Tipton Training Academy Theatre
Hygiene and Therapy Theatre – powered by Listerine.
Meet the exhibitors
The exhibitor hall is the beating heart of the North of England Dentistry Show.
Showcasing hundreds of the biggest brands in dentistry, it's the perfect opportunity to get face-to-face with the full spectrum of dental companies.
Do not miss this opportunity to engage with the industry's experts.
If you're looking to re-stock, get a better deal, upgrade or just discover something new, you'll find it here.
All exhibitors will have professionals on hand to answer your burning questions and explain everything from intraoral scanners to booking systems.
Our headline sponsor, Trycare, is the UK's fastest growing dental dealer, supplying the highest quality products to dentists all over the world.
Don't miss Trycare's Oscare Restorative Theatre, featuring exciting and informative power presentations to enable every member of your practice team to be more effective and profitable. Chat to Trycare at stands D1, D3 and E15.
Orascoptic, the show's platinum sponsor, is the industry leader in custom-fit dental and surgical loupes. Its award-winning products include magnification and illumination devices that apply to all dental procedures. Find Orascoptic at stand D4.
You can also pop over to the Clinical Dentistry Theatre to hear Shiraz Khan's lecture on minimally invasive adhesive aesthetics, sponsored by Orascoptic.
Dentex is the North of England Dentistry Show's gold sponsor. With a strong community of more than 100 practices, Dentex is a successful and inclusive dental business that improves the running of practices and celebrates individuality. It creates value for its dentist shareholders and liberates lifestyles. Find out more about Dentex at stand E7.
Make sure you attend Amin Aminian's lecture in the Business Hub on identifying patients at risk of occlusal collapse and intervention options in their management, sponsored by Dentex. 
Not to be missed
There is also a range of exciting prizes up for grabs.
At IDDA's stand, one lucky winner will be in with the chance to take home a free 3D printer. The fastest scan wins!
Rejuv Aesthetics will be putting on live demos throughout the day – 10:30am, 12pm, 1:30pm and 3pm. Pop over to its stand at G4 for the chance to win a set of three Rejuvafil premium derma fillers.
In addition, visit Trycare's stand for 10 minute teeth whitening for free! Click here to book a slot.
Over at the Clinical Dentistry Theatre, don't miss Payman Langroudi's lecture for Enlighten's exciting product launch of the ground breaking Enlighten Evo4 teeth whitening  system.
As well as this, all attendees of the North of England Dentistry Show will be entered into FMC's very own raffle. The two winners will win a free ticket to the 2023 UK Dentistry Golf Championship!
A drinks reception will also be taking place between 4pm and 6pm in the welcome foyer. This will be a brilliant networking opportunity to continue the conversations with peers, exhibitors and speakers over a cold glass of bubble.
There will also be a live DJ set brought to you by Smile Dental Academy! All attendees are welcome. 
---
Click here to register your place at the North of England Dentistry Show for free!
Follow Dentistry.co.uk on Instagram to keep up with all the latest dental news and trends.