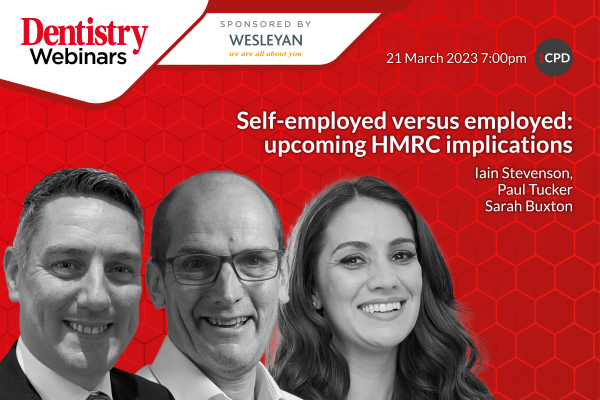 Don't miss Iain Stevenson, Paul Tucker and Sarah Buxton on Tuesday 21 March at 7pm as they discuss self-employed versus employed: upcoming HMRC implications. 
Join Iain Stevenson, head of dental at Wesleyan Financial Services, together with Paul Tucker of UNW and Sarah Buxton of FTA Law as they discuss the latest announcement from HMRC regarding tax status and what this means for you.
The webinar will address:
What is the current situation versus the upcoming changes?
What does this mean for principals/practice owners?
What does this mean for associates?
What can each party do to try to safeguard the current state of play?
How important is a written contract in light of this?
Where can dentists go if they want/need more information?
Learning outcomes:
How the tax changes affect you and your practice
The outcomes form the changes
What is needed to safeguard the current state of play
The importance of the written contact and where to go for help and information.
Speakers
Iain Stevenson is the head of dental with Wesleyan. He joined from Aviva in 2003 where he was a senior financial consultant working largely in the corporate sector.
For 10 years, he managed a team of specialist financial consultants working solely with dentists and dental practices covering North Wales, North West England, Northern Ireland and the whole of Scotland.
Since 2015, Iain has managed a team providing specialist financial advice to GPs, doctors and dentists until becoming head of dental in 2021.
Sarah Buxton specialises in acting exclusively for dentists, dental practice owners and dental managers in all aspects of HR and employment law, and is a director at FTA law.
She also advises dental practices to make sure areas are correctly dealt with, from making changes to employment contracts to managing maternity and sickness absence. In addition, Sarah has in-depth knowledge of working under an NHS contract and how this affects the employment relationship in a dental practice.
Paul Tucker is a senior employment taxes specialist. He joined UNW as a senior manager in the employment taxes department in September 2020.
In addition, he is an experienced speaker and is also a vice chair of the CIOT's National Employment Taxes Committee. He also chairs their employment tax forum.
To register for this webinar, simply visit www.dentistry.co.uk/webinar.
---
Catch up with previous On Demand webinars:
Inside digital implant dentistry
Save thousands within three months when switching dental plan provider
Savings and investments – your burning questions answered
Troubleshooting for clear aligners – solving problems and improving outcomes
Business insights for practice owners – 2022 market review.
Follow Dentistry.co.uk on Instagram to keep up with all the latest dental news and trends.