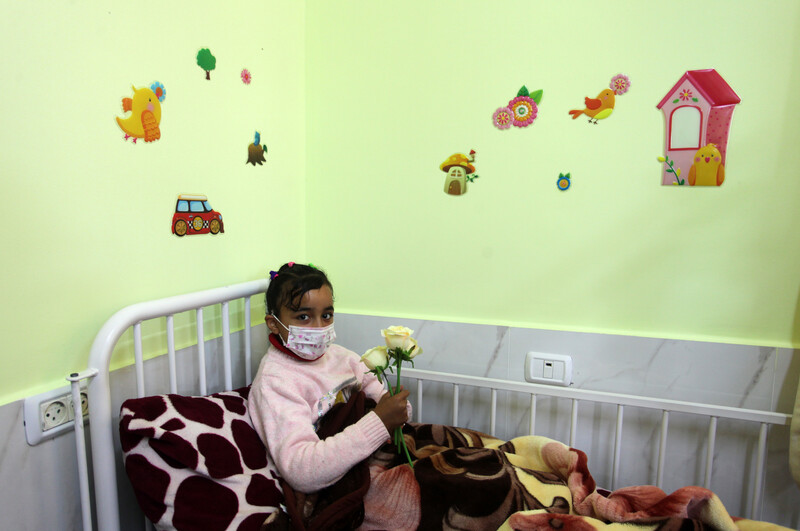 His health is deteriorating daily. Now, Saeed Jarghoon, 14, can't walk.
Saeed, from the city of Khan Younis in the southern Gaza Strip, has a cancerous tumor in his right leg.
His condition is worsening because the Israeli occupation authorities are preventing him from traveling to Israel for treatment.
He is not the only one. Physicians for Human Rights Israel recently announced that, according to its calculations, the number of children denied treatment outside Gaza had nearly doubled. This number includes children younger than one.
In September last year, Saeed underwent tests and PET and CT scans in an Egyptian hospital, after which doctors decided to transfer him to Israel. The tumor in his right leg, which was first diagnosed in 2016, requires advanced medical treatment that is not available in Palestinian hospitals.
Nahla, 28, Saeed's sister, told The Electronic Intifada that while Saeed was granted an all-hospitals' appointment – issued by both Israeli hospitals and those in the occupied West Bank – the delay in getting a travel permit to leave Gaza means that has now expired.
"We live in fear of his health. It's hard to see someone suffer all the time and you can't help him," Nahla said. "We just want to know the reason for rejection."
As for Saeed, he is getting bored.
"I just hope to get treatment quickly so that I can walk and play with my friends," the teenager said. "I get bored sitting at home all the time, especially since there is no electricity or any means of entertainment."
Due to Israeli restrictions on the import of fuel, Gaza suffers frequent electricity cuts.
Blockade and occupation
Saeed is not the only child who is awaiting Israeli approval to travel for treatment, whether to Israel or to the West Bank.
Physicians for Human Rights Israel recently found that the number of children denied treatment had nearly doubled.
According to the organization, in 2020, 17 percent of children's requests to leave the Gaza Strip for the purpose of receiving medical care not available in the Gaza Strip were delayed or refused.
In the first six months of 2021, this rate had nearly doubled to 32 per cent, according to calculations made by PHRI.
According to the World Health Organization, more than 155 out of a total 481 Palestinians under the age of 18 seeking to cross the Erez checkpoint for treatment in July this year were either refused or delayed.
Among 0-3 year olds, 30 children of 136 were rejected or delayed in seeking treatment.
Such obstructions can prove fatal.
Three children have died so far this year after permits to leave Gaza for medical treatment were denied or delayed, the human rights group Al Mezan has reported.
Inshirah Madani, 16, who has a malignant brain tumor is also waiting for Israeli permission to travel for treatment.
Inshirah's mother told The Electronic Intifada that the delay in her daughter's treatment caused her to lose one eye as a result of the growth of the tumor.
"For years, Israel has been delaying," the mother said. "I'm in so much pain while my daughter is slowly dying, and I can do nothing for her."
Gross violation of human rights
Abdulrahman Abu Mustafa is less than a year old. He has lived with heart disease since he was born but needs open heart surgery not available in the Gaza Strip.
Gaza's health sector is in serious disarray as a direct result of Israel's 15-year blockade and its tight restrictions on people and goods entering and leaving the coastal strip of land. There is a chronic shortage of essential medicines and import bans block vital equipment.
Gaza's health ministry, for example, has been unable to import medical devices and parts for radiology and imaging services, such as CT, PET and x-ray scanning machines. In 2021, the West Bank Palestinian Authority submitted 120 requests for the entry of such equipment, of which only 30 – or 25 percent – were approved by February 2022.
Receiving exit permits for medical treatment is therefore critical in Gaza and time is of the essence. Ahmed Abu Mustafa, Abdulrahman's father, said that his son needs urgent attention.
Among the problems that Abdulrahman faces are a severe lack of oxygen.
"I submitted many requests for a permit but to no avail. I don't know the reason for the delay, I just receive a mobile message that the request is 'under consideration'," Ahmed said.
Israel often also refuses to allow a minor's parents to accompany them. According to Physicians for Human Rights Israel, in 2021, those rejections reached 35 percent in 2021.
Abdulrahman's parents did not even try to get permits for themselves and, should Abdulrahman be granted an exit permit, he will be accompanied by his grandmother.
The head of the International Commission to Support the Rights of the Palestinian People, Salah Abdel-Ati, told The Electronic Intifada that Israel rejects most requests to obtain permits for treatment outside Gaza.
The permit regime amounts to torture for Gaza patients, Ati told The Electronic Intifada, especially children, for whom anguish about whether they can get treatment is simply added to the physical pain itself.
It is also a grave violation of international humanitarian law, specifically the Geneva Conventions, which stipulate a right to medical care, Ati said.
He called for serious and effective international intervention to end the siege and put real pressure on Israel to ease the suffering of two million Palestinians in Gaza.
Fedaa al-Qedra is a journalist in Gaza.
Tags