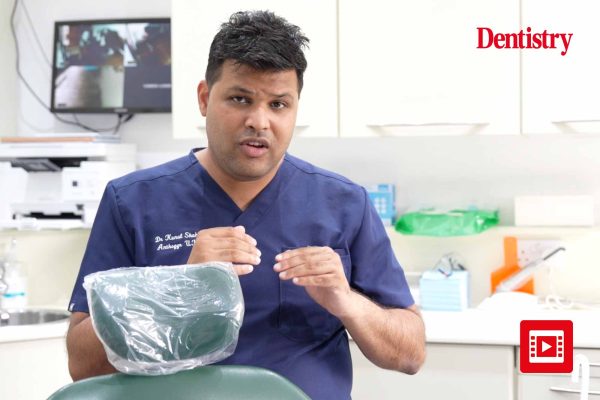 In this video, we hear from Dr Kunal Shah about his digital impact workflow and how one particular system has transformed his dentistry. 
When offering a patient dental implant treatment, it is important to first assess their anatomy using a cone-beam computed tomography (CBCT) system.
Dental radiographs have long been used as a tool in diagnosis and treatment planning, however, patients might have questions about this particular type of scan, and what they can expect in comparison to other types of imaging they may have experienced or heard of.
It is important that patients are well informed about the processes needed for diagnosis and treatment planning, and that clinicians are able to answer the questions they may have. Dentists might also consider ways in which CBCT images may be used to enhance communication. 
What makes CBCT more appropriate that other imaging types?
In some scenarios, such as assessing the suitability for dental implants for example, CBCT is commonly the most appropriate imaging option. They can offer a highly accurate 3D view of the patient's anatomy, using a relatively low dosage of radiation, often making them appropriate for use when reviewing treatment outcomes and peri-implant and bone health in the long-term.
They are able to deliver improved image quality and accuracy compared to other imaging types, offer clinicians comprehensive information about their patient's oral health, and deliver a quick and comfortable option.  
CBCT imaging is a great way to obtain accurate measurements, identify any issues in the gingival tissue, detect lesions which indicate disease, locate origin of pain, and evaluate key anatomical features such as sinuses, nasal cavity, and nerve canal in preparation for surgery.
By assessing all of these key areas, clinicians are able to assess a patient's suitability for treatments such as dental implants and allow them to select the correct size and length of implant to achieve optimal stability and osseointegration. They also provide a highly accurate depiction of the patient's existing bite, allowing the dental team to plan the alignment of the final restoration to avoid malocclusion.  
Enhanced patient experiences
When receiving a CBCT scan, it's important that patients know what to expect, to help them prepare and optimise results. While the scan will usually only last a few seconds, patients who are anxious about small spaces may find the experience a little uncomfortable.
Because of this, clinicians should offer personal advice to each individual. Patients must stay still for the scan, avoiding talking, swallowing, and moving the head if possible. This is because movement during the scan can cause blurred images, which can render them unusable in diagnosis and treatment planning. Therefore, it's important that patients remain still to avoid the need for re-takes.  
CBCT scans also offer patients the benefits of improved communication. Because the resulting images are of such high-quality and accuracy, clinicians can use them as a visual tool to describe the patient's situation, including any areas of concern, and the planned treatment. This is a highly effective way of improving a patient's understanding of their own oral health and helping them to provide informed consent.   
Carestream Dental's portfolio of CBCT offer the right solution for every need. Give your smaller practice a new dimension with the CS 8100 3D.
A versatile 2D/3D system that fits your needs and budget, featuring high resolution 3D images with limited artifacts and noise alongside clear and sharp panoramic images ideal for routine needs. Take you practice to the next level with the CS 8200 3D Neo edition.
This system offers more in-office services and features the broadest range of fields of view in its category. Give your practice the edge with the premium, five-time winner of the Cellerant Best of Class Technology award, the CS 9600 CBCT.
This innovative 5-in-1 scanner features AI powered positioning, obtaining accurate and repeatable CBCT images. With 14 fields of view and the optional Scan Ceph module this system is suitable for a wide range of clinical scenarios. 
CBCT imaging is a crucial tool for diagnosis and treatment planning across a number of clinical scenarios. By offering patients the accurate and detailed information they need to understand this type of imaging, and the treatment they need, they are able to provide informed consent and gain a better understanding of their own oral health.  
---
For more information on Carestream Dental's solutions visit www.carestreamdental.co.uk.
For the latest news and updates, follow them on Facebook and Instagram @carestreamdental.uk.